CAREERS
GET LUCKY and find a job you love
Join a culture of dedicated customer service to:
OUR GUESTS
We create EXCITEMENT by providing the best in Gaming & Hospitality
OUR TEAM
Great benefits, multiple career paths with a history of promotion from within and exciting and engaging environment
THE COMMUNITY WE LIVE IN
Active sponsorship, donations totaling over 4 million to-date,  volunteering and connecting charities to each other  for support.
HOW TO APPLY
YOUR EXCITING NEW CAREER STARTS HERE
APPLY – submit your application
INTERVIEW – have an interview with department leadership
RECEIVE AN OFFER – you will receive a verbal offer followed by an official offer letter from the HR team
BEFORE YOU START – HR will contact you to start your onboarding and schedule an appointment for licensing and uniform fitting (if applicable)
YOUR FIRST DAY – attend New Hire Orientation to learn more about the property and meet the team that you will be working with everyday
YOUR FIRST FEW WEEKS – start training with your department
WELCOME TO THE TEAM!
Health care needs are not one size fits all…
MVG allows you to select customized options that work best for you.
Eligibility for these benefits starts the first of the month after date of hire for full time team members.
Humana – two PPO medical plans to choose from for full time team members
Accident Coverage, Critical Illness, and Cancer Insurance
Company Paid Life Insurance
Dental Insurance through Delta Dental
Humana Vision Care
Health Advocate – provides assistance for healthcare and insurance related issues as well as resources to deal with life stressors such as emotional, marital and financial difficulties
Flexible Savings Account
Health Savings Account
Dependent Care Savings Account
401K
Who wants to work forever?
Miami Valley Gaming makes saving for retirement easy!
At Miami Valley Gaming, we value our team members and want to help them manage their finances and plan for their future with our outstanding 401(k) program. We offer a competitive "Safe Harbor" 401k program administered by MassMutual for full time team members after 90 days of employment. Miami Valley Gaming will MATCH your contribution – 100% for the first 3%, and 50% for the next 2%. Team members are also fully vested from day one, making the road to retirement even easier.
Paid Time Off
Need time to unwind? MVG understands work/life balance.
Miami Valley Gaming provides a flexible paid time off plan for full and part time team members. Time is accrued based on hours worked and increases with length of service. Full time team members can accrue up to 4 weeks of PTO during the first year of employment! Team members can use this paid time for the unexpected, or planned rest and relaxation.
Tuition Reimbursement
If earning a degree is one of your dreams, we can help you get there!
At Miami Valley Gaming, we recognize that our success flows from the skills, knowledge and performance of our team members. Our tuition assistance program encourages personal development through formal education so our team members are able to maintain and improve job-related skills or enhance their ability to compete for reasonably attainable positions within the organization. The goal of this program is to support team members who want to increase their skills, knowledge and career capabilities through continued education while still maintaining employment.
Working here comes with great perks!
What would a great company be without fabulous perks?
Receive 1.5x pay for working select holidays and high volume business days
30% discount at select restaurants
Team member dining room offers free beverages, tvs, foosball table, pinball machine and an arcade gaming machine with 300+ games.
Our team member lounge offers a quiet and restful area to take a break on our plush chairs or surf the web using the computer lab.
Team Member Referral Program – refer a friend to work for us and receive $300
Buckeye Rewards- earn points for performance, recognition and years of service to cash in on thousands of products
Team Member Events throughout the year. VIEW PICS
Prescription Discount Card
Q: Do you accept job candidates with little to no work experience?
A: Absolutely! Many of our departments offer entry-level roles with little to no experience required. Exact requirements are listed within each job description
Q: What are the long-term growth and promotional opportunities within Miami Valley Gaming?
A: At Miami Valley Gaming, we are focused on growing our team members from within. In fact, the majority of the leadership team was promoted from within and several of them started in entry-level roles.
Q: What are the pay periods?
A: Pay periods are bi-weekly beginning on Friday and ending on Thursday. Paychecks are issued on Wednesday one week after the end of each pay period.
Q: What is the vacation structure?
A: Both full-time and part-time team members are eligible for Paid Time Off (PTO). Full-time team members receive 20 days of PTO in their first year and part-time team members receive one week.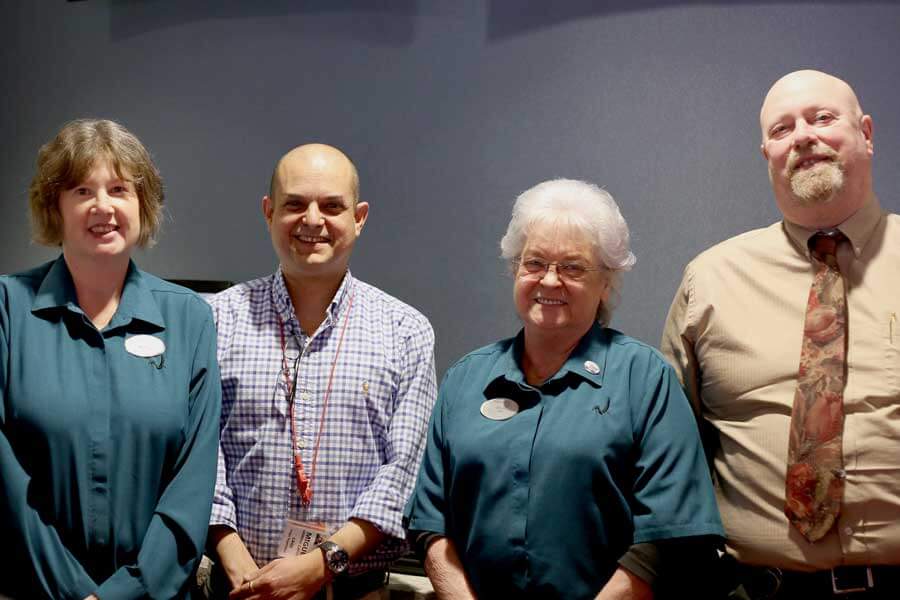 If you are a dynamic, dependable, and guest focused individual, we would be lucky to have you!
Miami Valley Gaming knows luck. We also know what it takes to build a winning team. As the premier gaming destination in the region, we are lucky to have the best team members in the industry to get the job done. We offer many career paths for our team members to move forward. The majority of our leadership team has been promoted from within the company. If you are a dynamic, dependable, and guest focused individual, we would be lucky to have you. Ready to join the team?