MISSION STATEMENT
Miami Valley Gaming Community Outreach takes great pride in working with local communities where we operate. We focus on partnering with organizations and initiatives that seek to benefit others in the community where we all live. Our goal is to enrich and strengthen the community as a whole.
HUMANE ASSOCIATION OF WARREN COUNTY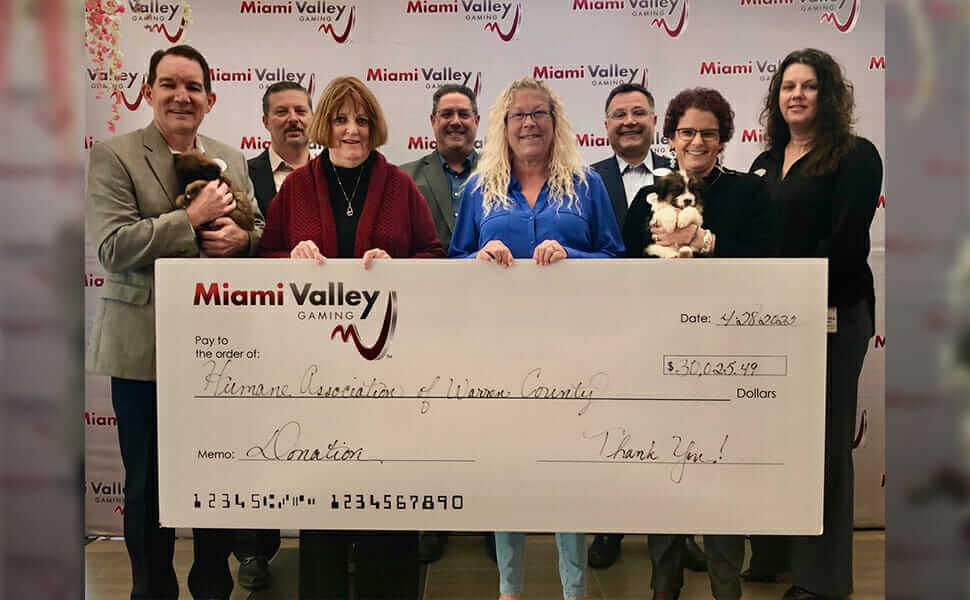 Over the last several years MVG has provided support through the MVG Charity Kiosk Program and happy to sponsor their 50th Anniversary Gala to take care of furry friends with the Warren County Humane Association. For 50 years, the Humane Association of Warren County Animal Shelter and Adoption Center has served the needs of Warren County and Southwest Ohio.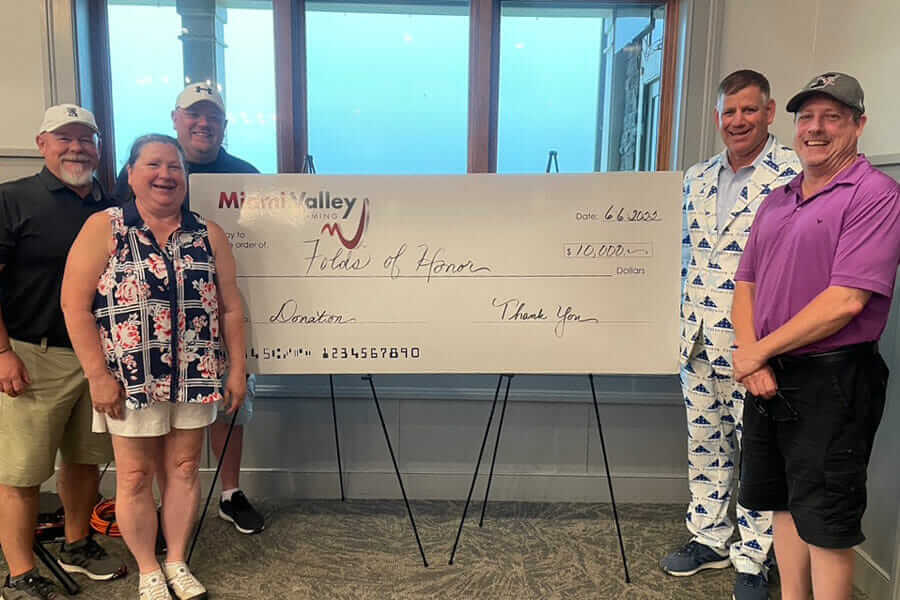 MVG was pleased to lend support to the Folds of Honor Charity Golf Tournament earlier this year and now Folds of Honor is on the MVG Kiosk Program to help raise funds for scholarships to provide scholarship to spouses and children of America's fallen or disabled military personnel and first responders.
PINK RIBBON GOOD
formerly Pink Ribbon Girls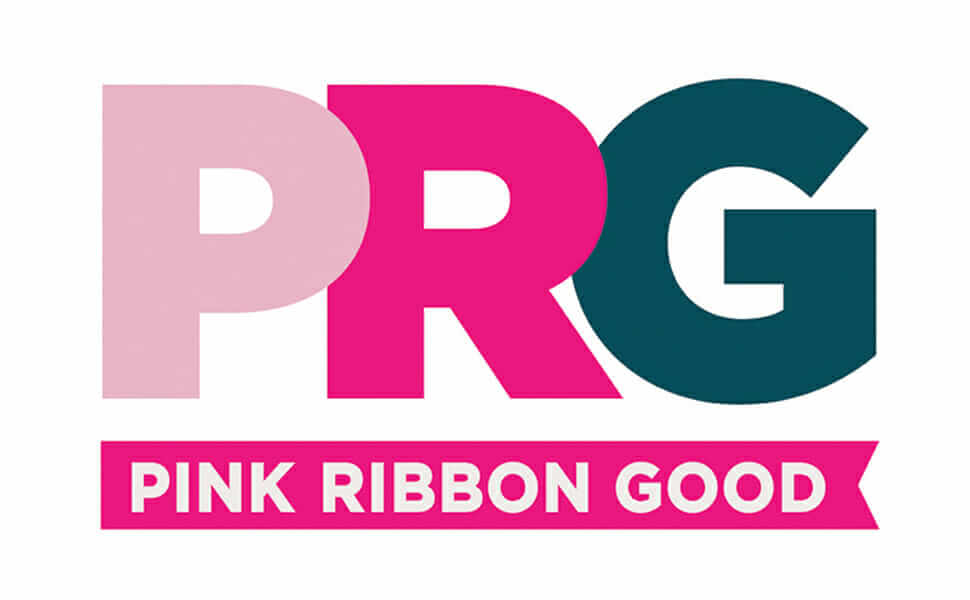 This impactful, local nonprofit supports individuals and families in the Cincinnati and Dayton regions battling breast and gynecological cancer by providing free healthy meals for the whole family, rides to treatment, house cleaning kits, as well as peer support and education. Access to these essential services improves cancer treatment outcomes. If you know someone battling breast or gynecological cancer in the Cincinnati or Dayton regions, Pink Ribbon Good would be honored to serve them.
ALZHEIMER'S ASSOCIATION OF GREATER CINCINNATI & MIAMI VALLEY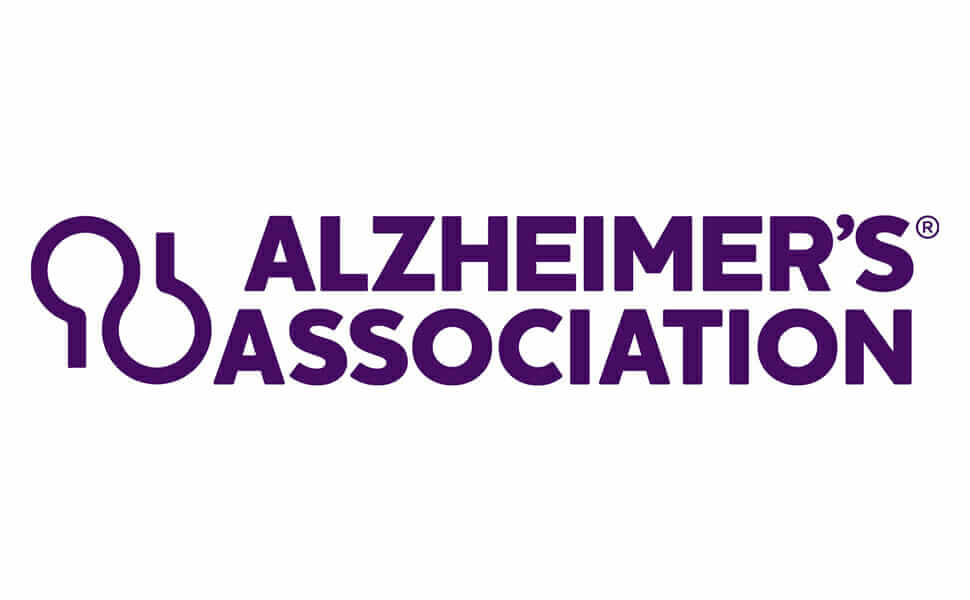 The Alzheimer's Association is the largest nonprofit funder of Alzheimer's research and is committed to advancing vital research toward methods of treatment, prevention, and ultimately, a cure. The Alzheimer's Association provides care and support for all those affected by Alzheimer's and other dementias and their families through the Helpline, care consultations, education program, support groups, and early-stage activities.
24/7 Helpline at 800.272.3900 or email ANBARNETT@ALZ.ORG or WWW.ALZ.ORG
UNITED WAY OF WARREN COUNTY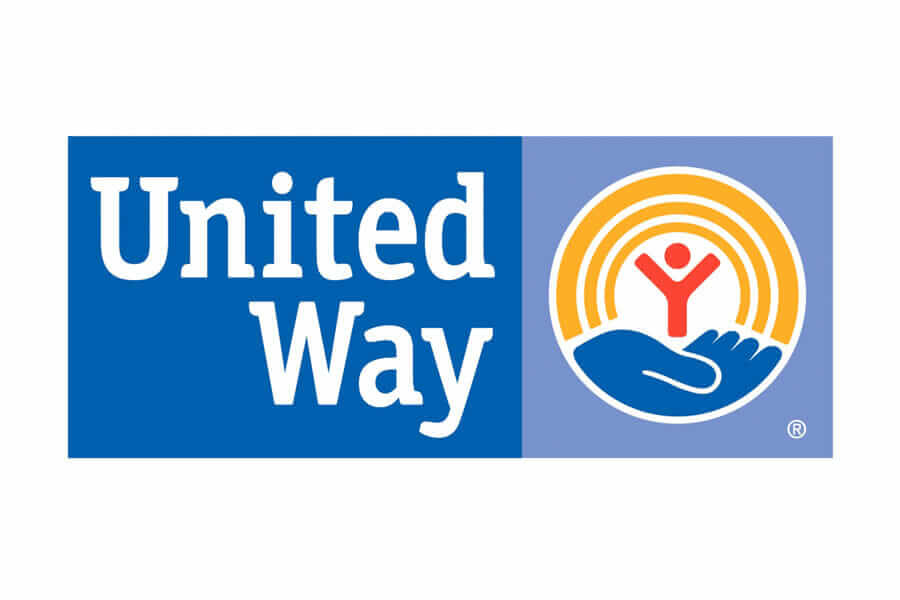 Miami Valley Gaming is proud to be the Event Sponsor of the United Way of Warren County's fundraising Campaign kickoff luncheon. The United Way of Warren County brings our community together to make a real difference in people's lives. This incredible organization serves as a catalyst for community assistance, rallying resources and support to uplift the lives of countless individuals. In addition to its pivotal role in funding nonprofits, the United Way extends its influence through the 211 helpline. A lifeline for those in need, this service offers comprehensive assistance and guidance, connecting individuals to critical resources, information, and support 24/7. With the United Way of Warren County and the 211 helpline, MVG is pleased to support – a powerful network that addresses a wide spectrum of social challenges, while also providing a safety net that shows their unwavering dedication to our community.
WARREN COUNTY VETERANS SUICIDE PREVENTION COALTION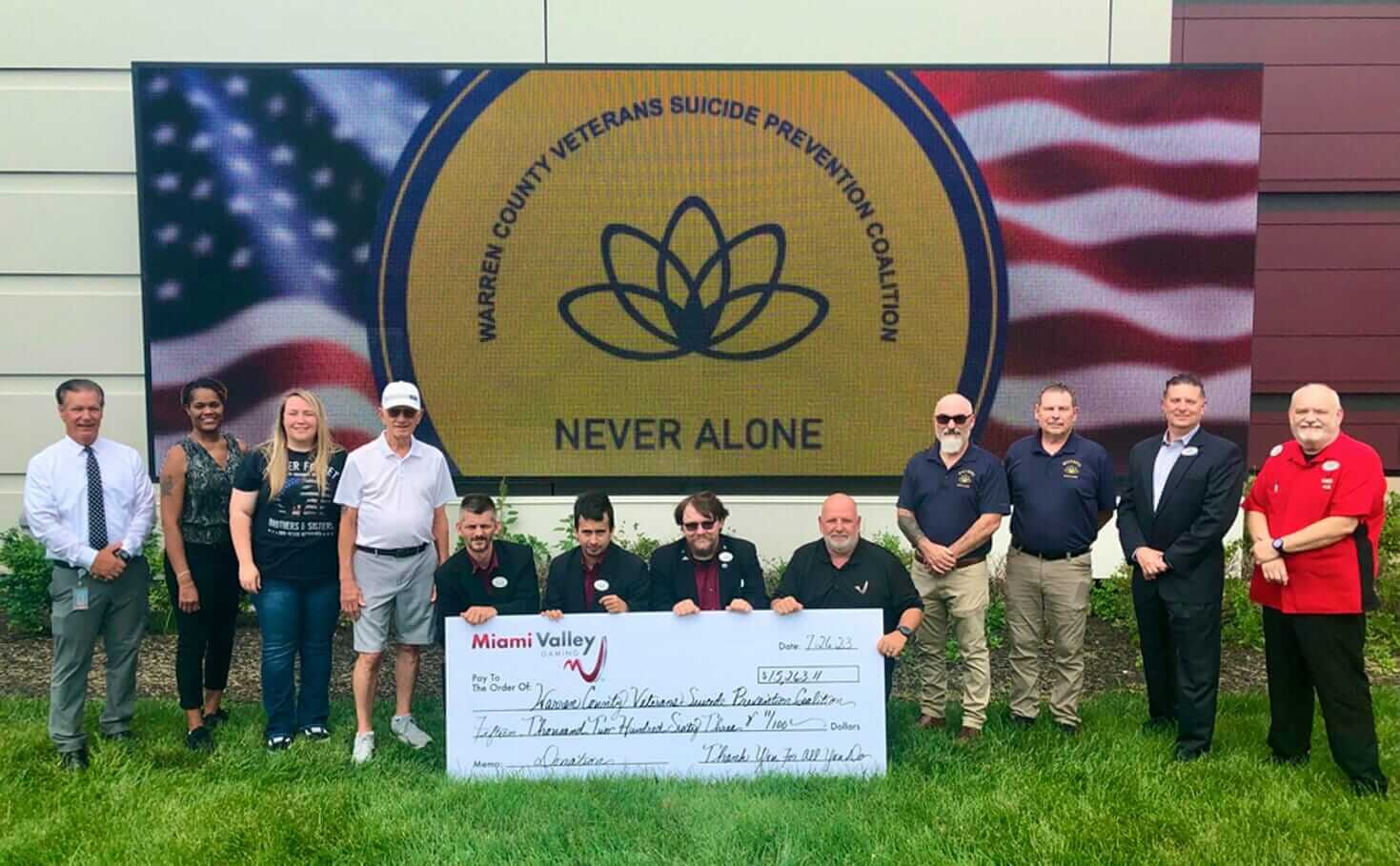 Miami Valley Gaming is gratified to support the Warren County Veterans Suicide Prevention Coalition who is working to prevent veteran's suicide by mobilizing the community through education and awareness.
The local crisis line is 1-877-695-NEED(6333) or dial/sms 988. If you need or would like more information, please use the "learn more" button below.
FISHER- NIGHTINGALE HOUSES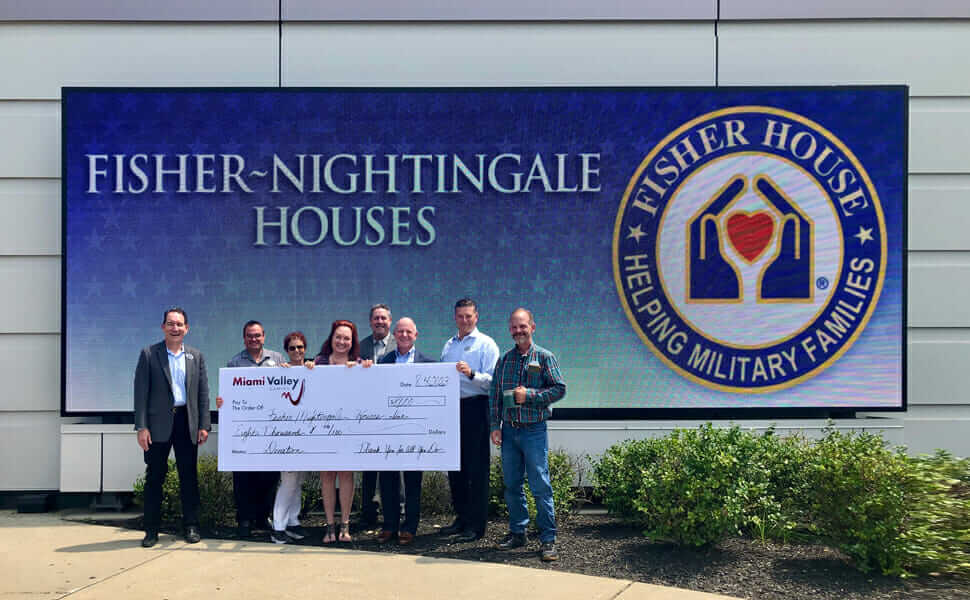 Miami Valley Gaming is proud to help support Fisher-Nightingale Houses, Inc. (FNHI) and all they do to take care of our military, veterans and their families. Fisher Houses offer physical and emotional support to our servicemen and servicewomen, providing the opportunity for military and veteran families to stay together and support each other when a loved one is undergoing medical treatment. Fisher-Nightingale Houses, Inc. is a non-profit that specifically supports the guests and operation of the Dayton, Ohio area Fisher Houses. Two are located on the Wright Patterson Air Force Base, and the third is located at the VA Hospital in Dayton, Ohio. All donations to the FNHI stay local to these three Fisher Houses. Upon arrival they are greeted with beautiful, peaceful surroundings, fully stocked kitchens, and all basic necessities provided such as laundry facilities and guest suites outfitted with all amenities. Please click on the "Learn More" button for additional information. Contact Executive Director, Dr. Kimberly Luse, at KLUSE@FNHI.ORG or 513-544-9408 to visit the beautiful Dayton area Fisher Houses.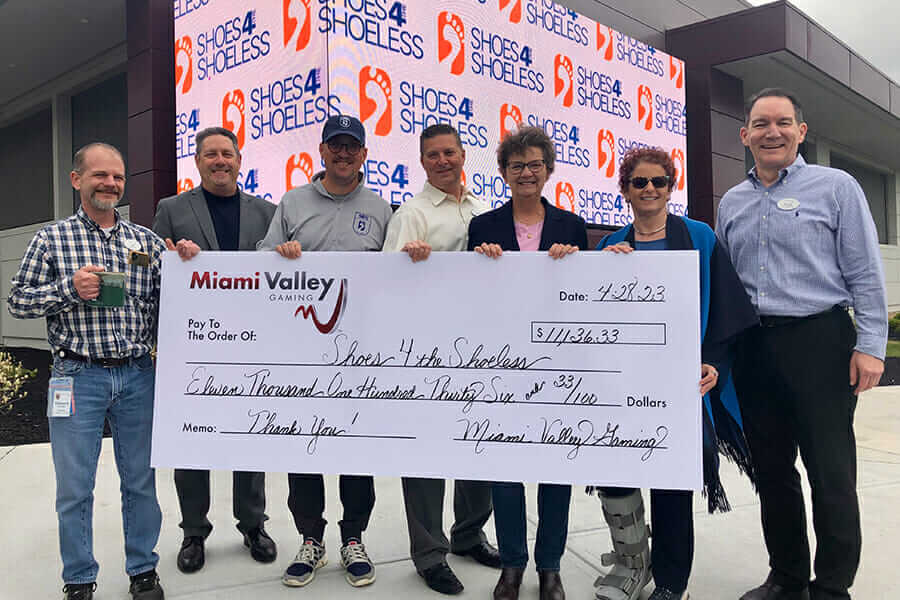 A BIG THANK YOU to everyone who donated their change through the MVG Charity Kiosk Program to Shoes 4 the Shoeless, a nonprofit that provides new, correctly fitting gym shoes and socks to Southwest Ohio children in need. The need is so great that Shoes 4 the Shoeless is now expanding their assistance into Cincinnati. This donation will provide 371 children with brand new sneakers and socks!
Ill-fitting shoes is one of poverty's most visible stigmas. Wearing inadequate, poorly fitting, worn shoes often condemns children to physical, social, and emotional problems that last a lifetime. Shoes 4 the Shoeless began in 2010 and has helped well over 100,000 children. If you would like to learn more about Shoes 4 the Shoeless, tap on the "learn more" button below.
CHARITY NIGHT AT THE RACES
presented by the Ohio Harness Horseman's Association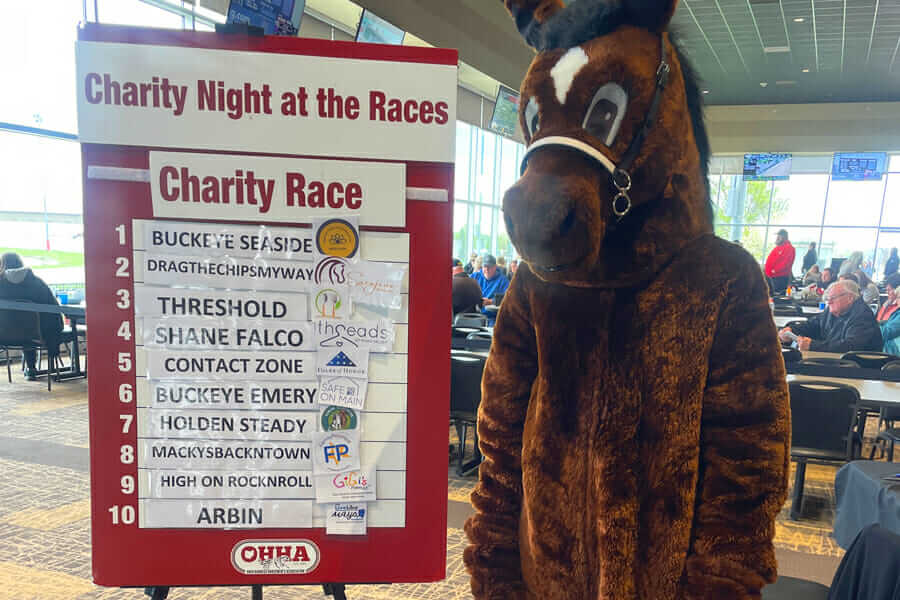 On April 23 Miami Valley Gaming was thrilled to host Charity Night at the Races presented by the Ohio Harness Horseman's Association (OHHA). It was an exciting evening with dinner and horseracing. The OHHA used the 8th race and matched a horse with a charity. Arbin won and the matching charity Live Like Maya received the $10,000 first place prize! Second place went to Threshold giving $5,000 donation to Feed the Hungry Project/Dream Center. Third place was Drag The Chips My Way and there were two charity prize winners, due to a scratch, and both charities, Sarajevo Farms Miracle Horses Healing Hearts and Humane Association of Warren County both collected $3,000. Each of the 7 remaining charities each earned $2,000 for coming to play and they are, Family Promise of Warren County, Folds of Honor Foundation, GiGi's Playhouse Down Syndrome Achievement Centers, SAFE on Main, Threads of Miami Valley and Warren County Veterans Suicide Prevention Coalition. It was a memorable evening and many thanks go to the charities for participating and especially to the OHHA for their generosity.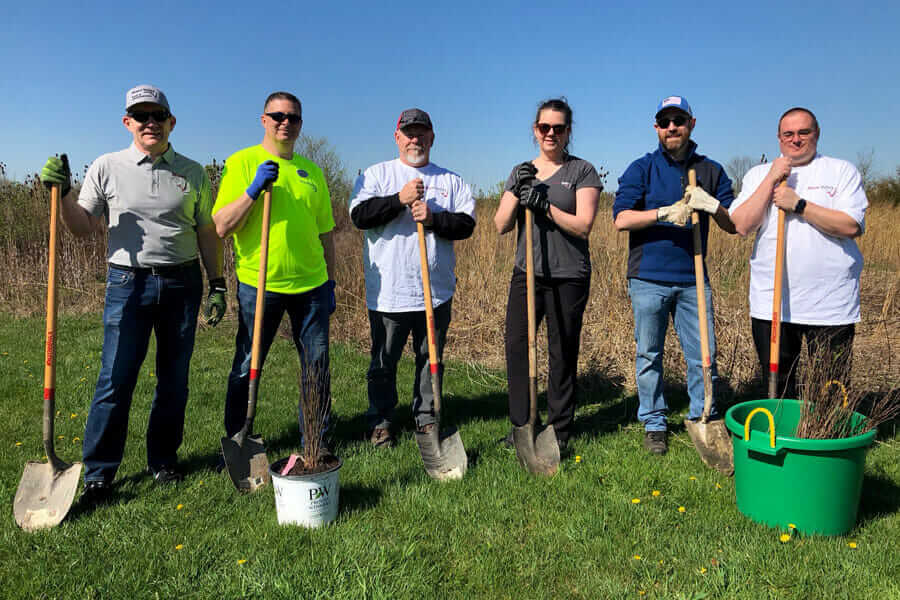 This year celebrates 50 years of Earth Day, volunteers worldwide are pitching in to taking care of the environment, the earth. Here is the Miami Valley Gaming Crew that really dug to do their share by taking care of Miller Ecological Park, in Lebanon. They cleaned the area, edged, mulched trees, and planted 150 saplings!
Miller Ecological Park is located at 755 Miller Road, Lebanon. It is about 97 acres and houses wildflower meadows, butterfly and rain gardens, a maze, a preserve prairie, walking paths, and children's playscape. There is so much to see, do and enjoy at the park. Below is a link to learn more about Miller Park and all the wonderful programs they offer.
There is still time left in April – really Earth Month, if you will. Check out what's going on in your neighborhood and how you can lend a hand to help the environment. Each program unites us in creating a total impact that takes care of the beautiful earth where we live.
COUNTRYSIDE YMCA AND VETERANS CONNECT PROGRAM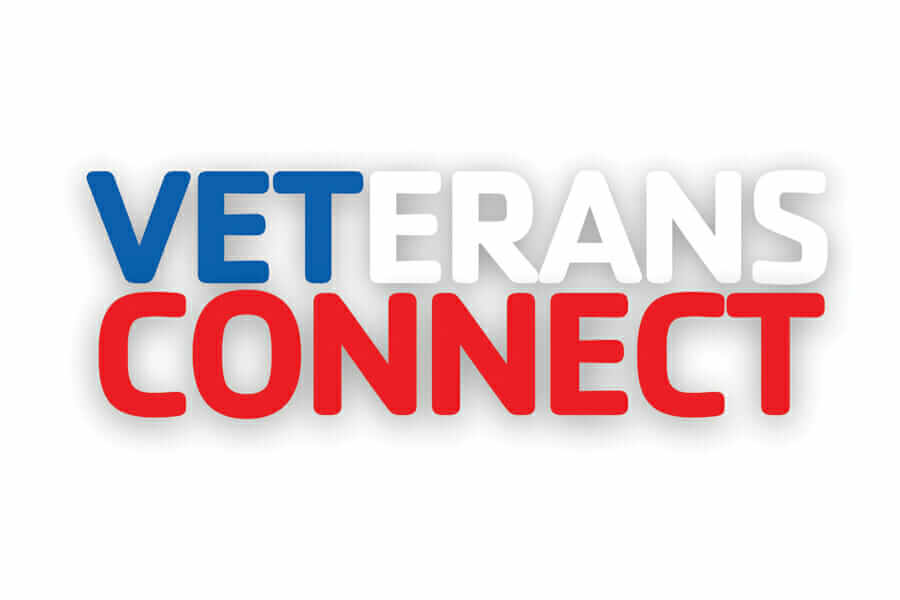 MVG was proud to be the presenting sponsor of Countryside's Veteran's Connect Program via YMCA's Disco for a Difference benefit. The Veteran's Connect Program is available to vets to meet 3 mornings or 2 evenings during the week for fitness programs, sharing a meal, mental health resources, team building and camaraderie.
FEED THE HUNGRY PROJECT/ DREAM CENTER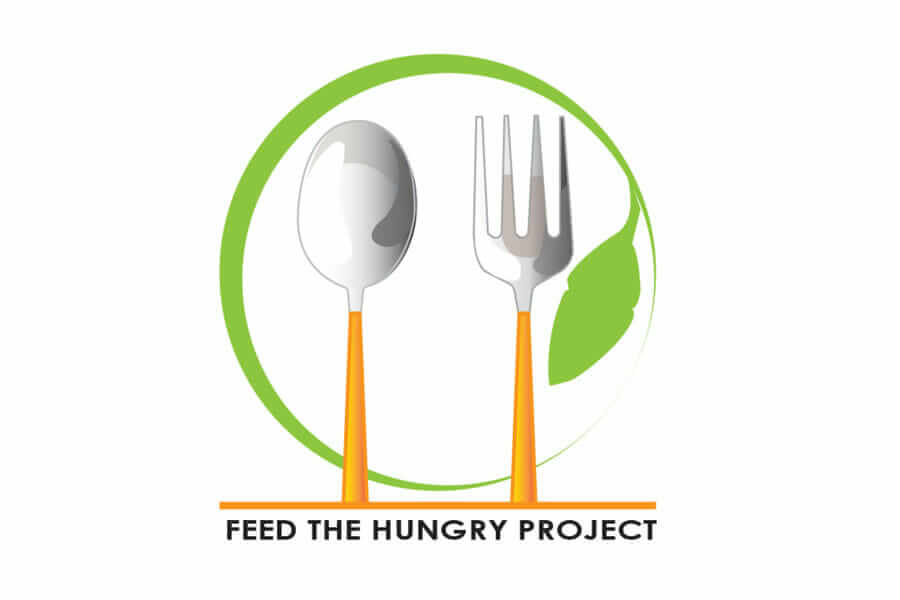 Miami Valley Gaming was pleased to help sponsor the Feed The Hungry Project/Dream Center's 9th Annual Formal MLK Gala.
The Feed The Hungry Project provides over 2,000 nutritious meals a month to underserved communities. They offer a hot breakfast, Silver Sneakers, afterschool child enrichment programs, holiday dinners, summer programs for children, clothing, household items and more.
MVG would also like to congratulate the honorees: Delia A. Adams, director of Veterans Health Administration, Service Area Office – West; Kris Horlacher, RN, BSN Founder and Executive Director of Shoes 4 The Shoeless; Quinton E. Moss, MD, CEO and Medical Director of Modern Psychiatry and Wellness LLC; Sarah K. Nathan Ph.D., Executive Director Middletown Community Foundation in Ohio; Norman Spence, Administrator for Kettering Health Middletown and Kettering Health Franklin; Minister Patricia A. Wilkinson, Esq. Associate Minister at Mt. Zion Baptist Church in Middletown.
HAMILTON JUNIOR WOMEN'S LEAGUE AND PARACHUTE BUTLER COUNTY CASA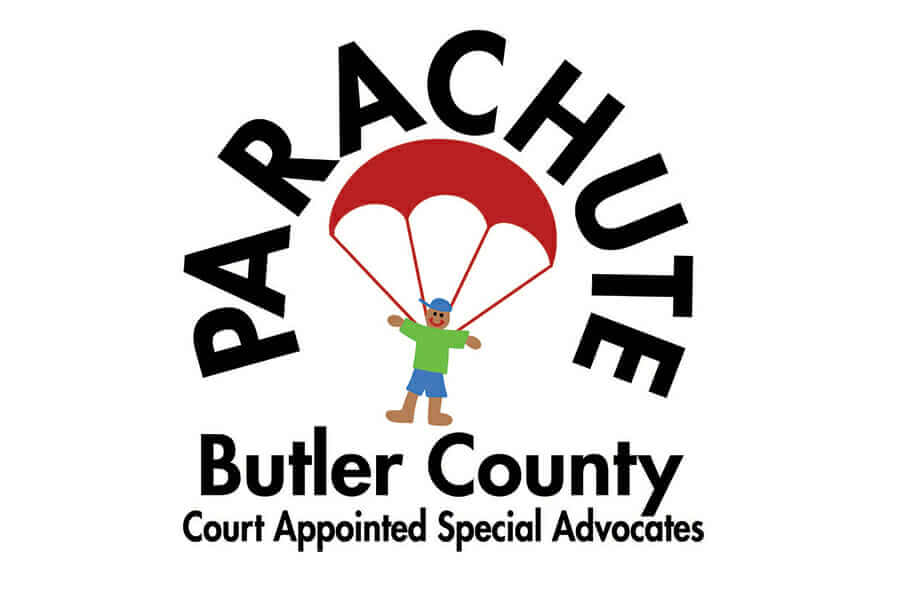 The Hamilton Junior Women's League held a fundraiser, A Night at the Masquerade that Miami Valley was happy to help sponsor to benefit Parachute CASA.  Parachute is a non-profit agency dedicated to providing trained community volunteers to children who are in the Juvenile Court system due to abuse, neglect or abandonment; these volunteers are willing to take a stand for the county's most vulnerable children. The CASA concept is based on the belief that every child has the right to a safe,
permanent home, as soon as possible.
Click the link below to learn more.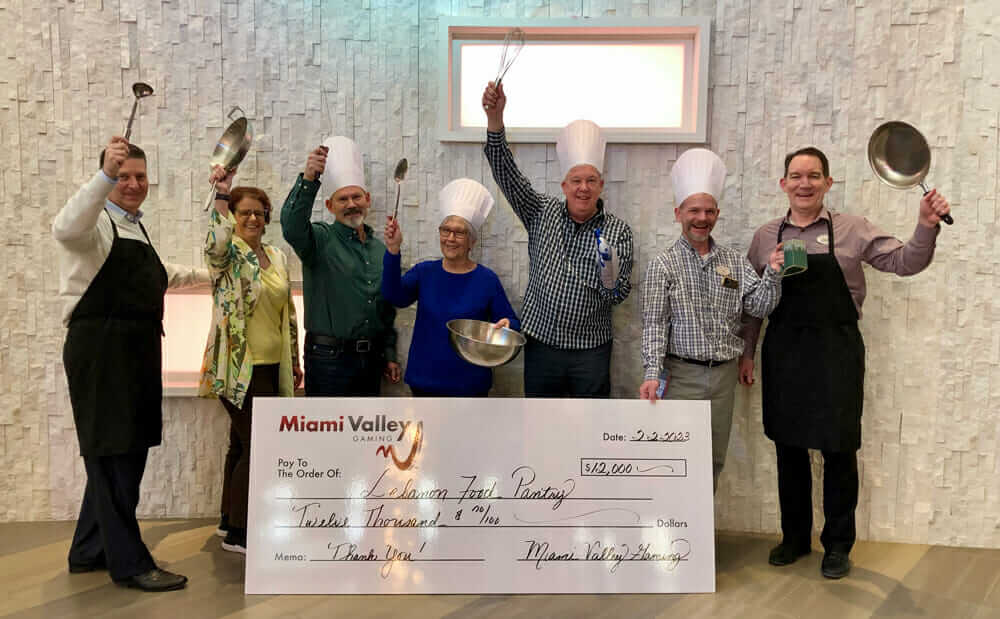 This year Miami Valley Gaming personnel volunteered their efforts for an in-house food donation collection to benefit the Lebanon Food Pantry. The Lebanon Food Pantry serves neighbors who are in need of food during their hours of service. Just click on the "Learn More" button to find out all the details.
The Lebanon Food Pantry is incredibly important to the Warren County Community therefore Miami Valley Gaming decided to continue assisting by adding the Pantry to the MVG Charity Kiosk Program. This program allows patrons who are cashing out their tickets at the kiosks to donate their change to benefit one or two organizations each quarter.
FAMILY PROMISE OF WARREN COUNTY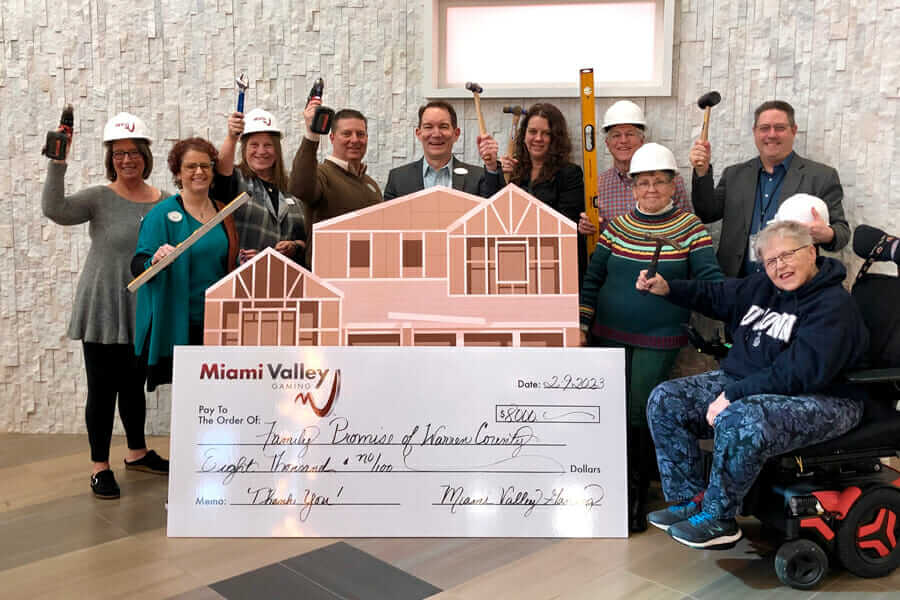 Family Promise of Warren County's mission is to assist families experiencing homelessness here in Warren County to achieve sustainable independence through community-based response. Every family deserves a home, a livelihood, and a future full of promise.
This wonderful organization was supported through the MVG Charity kiosk program, Charity Night at the Races, and sponsorship for their 25th Anniversary Gala.
CHILDREN'S HOSPITAL LIBERTY CAMPUS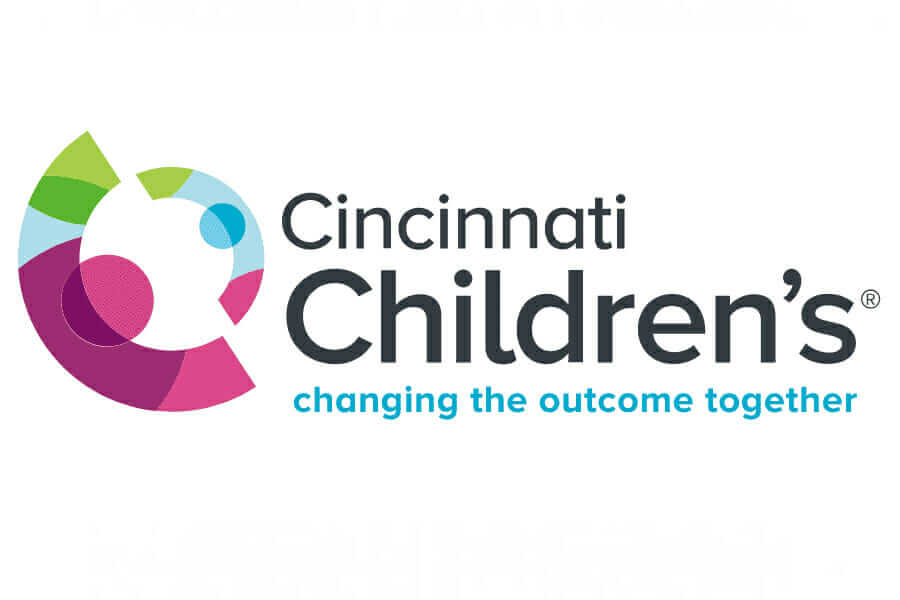 MVG ran a second MVG Pull Tab for Charity postcard fundraiser to benefit Children's Hospital Liberty Campus. The funds were donated to the Children's Hospital Foundation specifically designated to families that could benefit from some financial support when it comes to paying their hospital bills. Parents should be able to focus on the health and welfare of their child first and foremost.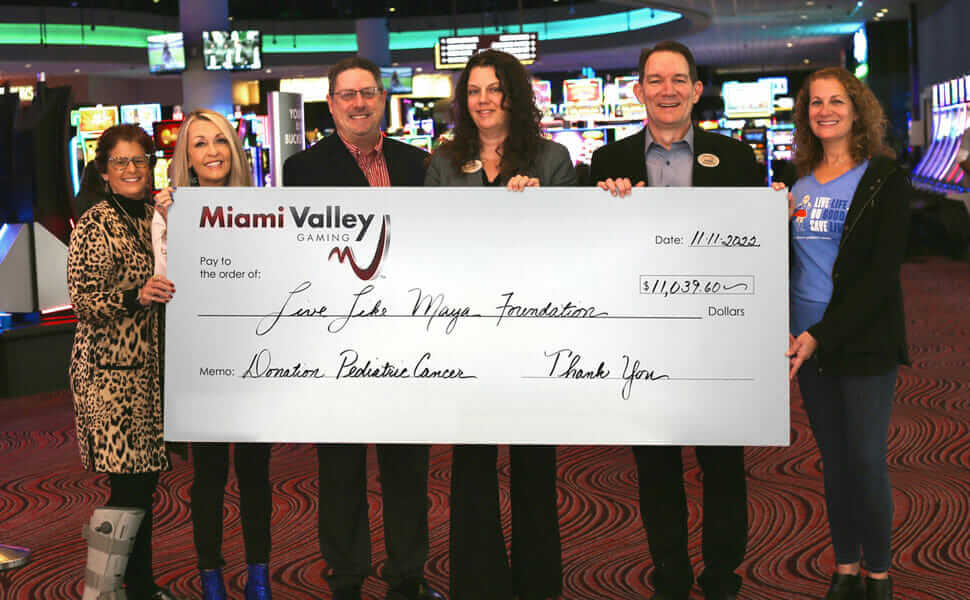 Miami Valley Gaming was touched to become part of the team to help fund the Live Like Maya Foundation. The Live Like Maya Foundation is committed to funding pediatric cancer research, providing financial assistance to families of children battling cancer and continuing Maya's legacy of fostering kindness and goodwill within the community. The donated funds were designated to help families with financial need so that the parents can focus on the health of their child.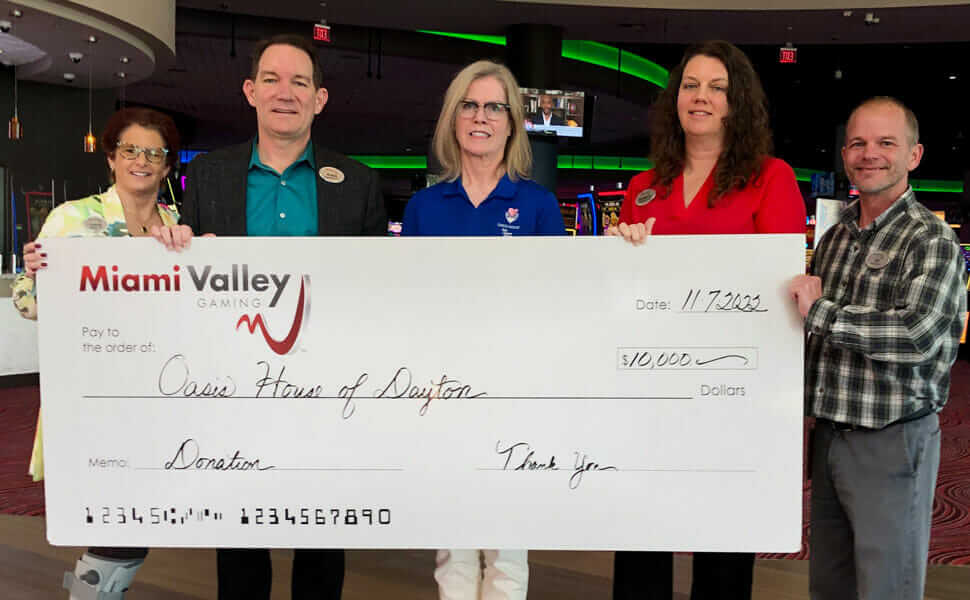 Oasis House of Dayton was on the MVG Charity Kiosk Program. The funds raised were used to help Oasis House offer hope and support to women survivors of sexual exploitation and trauma by promoting healing, restoration, teaching practical life skills, and mentoring through a transformational process.
Additionally, MVG was a Partnership Sponsor for their fundraiser golf tournament this past fall.
It was a swinging afternoon on the links raising funds and awareness.
ATRIUM MEDICAL CENTER FOUNDATION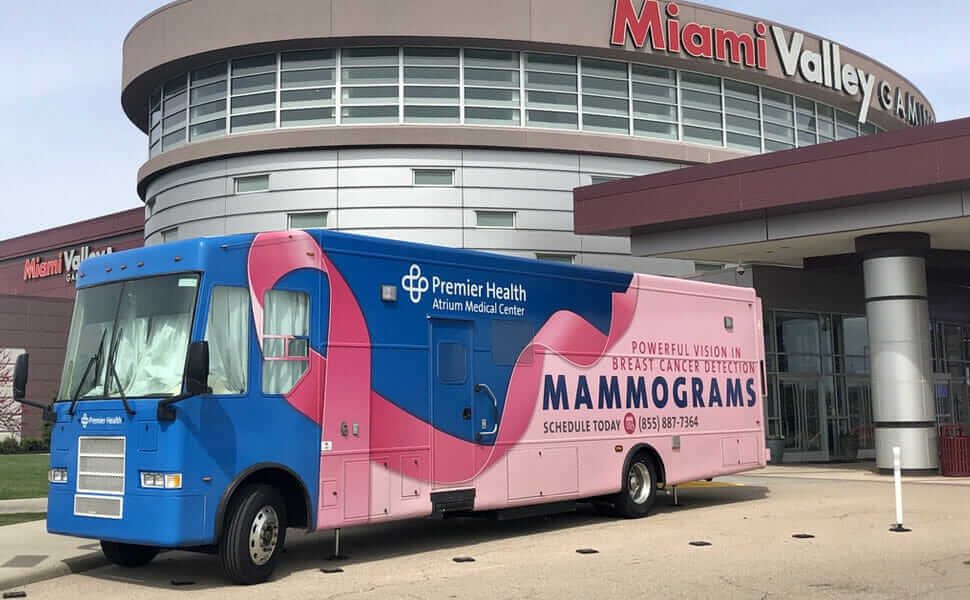 MVG greatly values their partnership with Atrium Medical Center Foundation.  Annually they bring their Mammography Coach and park it out front of MVG to invite women over the age of 40 to come in and get a breast exam.
This year MVG was an Eagle Sponsor for their James Combs Golf fundraiser. And in 2022 we proud to be a Bliss Sponsor for the 2022 Joie de Vivre Gala, aka, the Joy of Movement Campaign Gala.  The evening was magic filled with artistry and fun, all to benefit Atrium Medical Center's plans to create better experience for those dealing with bone and joint pain.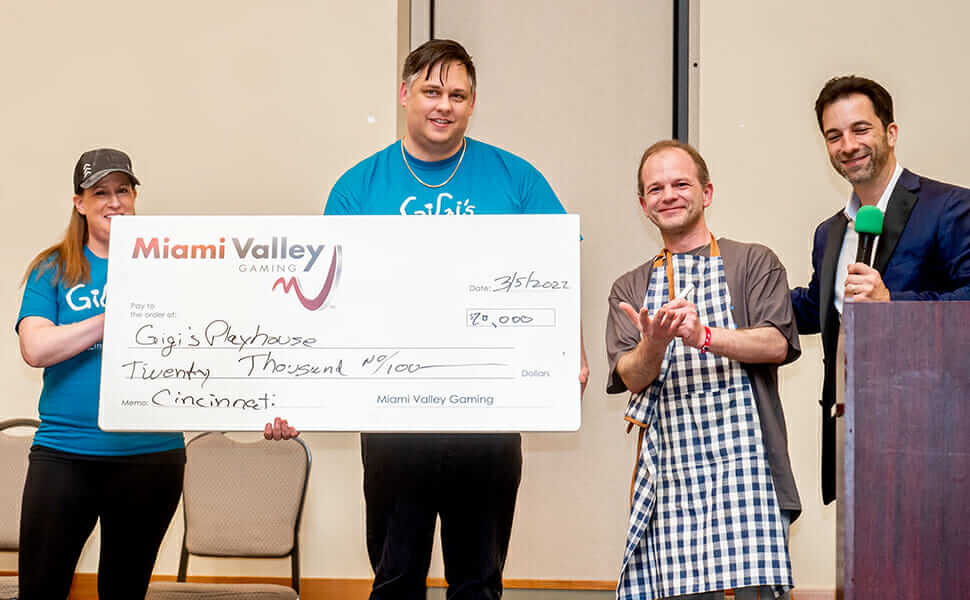 GiGi's Playhouse was on the MVG Charity Kiosk Program. It was very exciting to be able to help fund their startup here in Loveland. GiGi's Playhouse is a community center for individuals with Down syndrome and their families. They provide FREE therapeutic, educational and career development programs for individuals of all ages with Down syndrome.
Their fundraising dinner was terrific, but the very special entertainment by the theater students from GiGi's Playhouse brought down the house! The singing and acting was fun, funny, and thoroughly enjoyed by all who attended.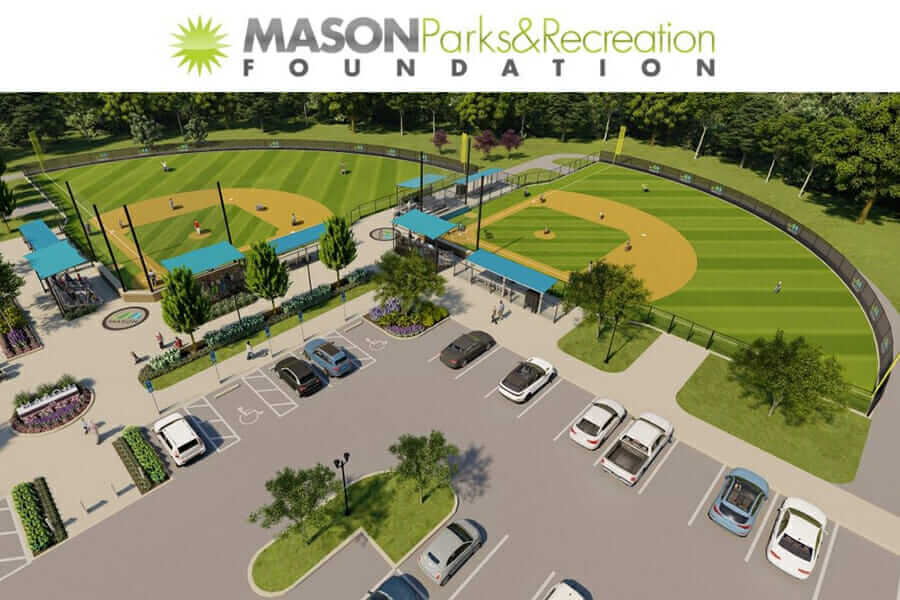 Makino Park is a unique educational, interactive, inclusive adaptive playground for everyone. Miami Valley Gaming has provided some funding to support the soon to be additions of fully accessible, barrier free ball fields. Everyone should be able to "Play Ball!"
If you are looking for more information or a way to donate to the project, hit the "Learn More" link below. Let's team up together to hit this one out of the park!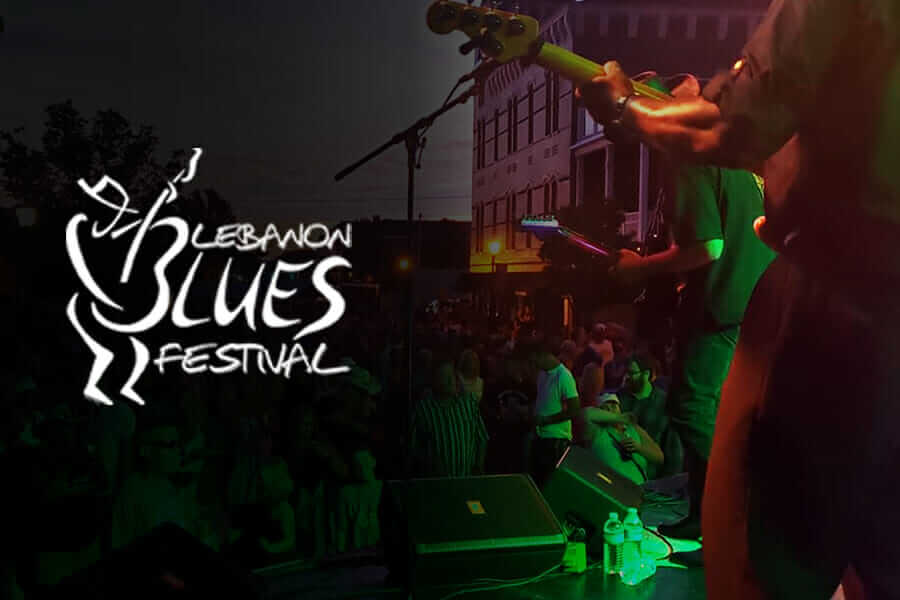 MVG was proud to be the Title Sponsor for the Lebanon Blues Festival produced by the Lebanon Optimist Club. 100% of the proceeds earned at this festival are given back to the community through grants to Lebanon's youth-serving organizations and programs.
LEBANON COUNTRY MUSIC FESTIVAL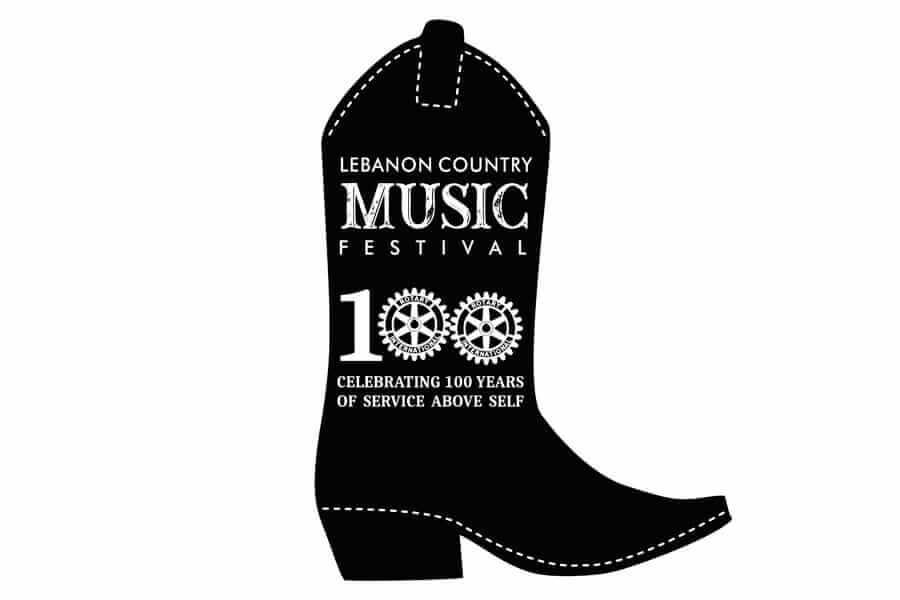 MVG was proud to partner with the Lebanon Rotary Club to present the Lebanon Country Music Festival. The Lebanon Rotary Club puts service above self and applies the proceeds from this fundraiser to many nonprofit organizations and civic projects.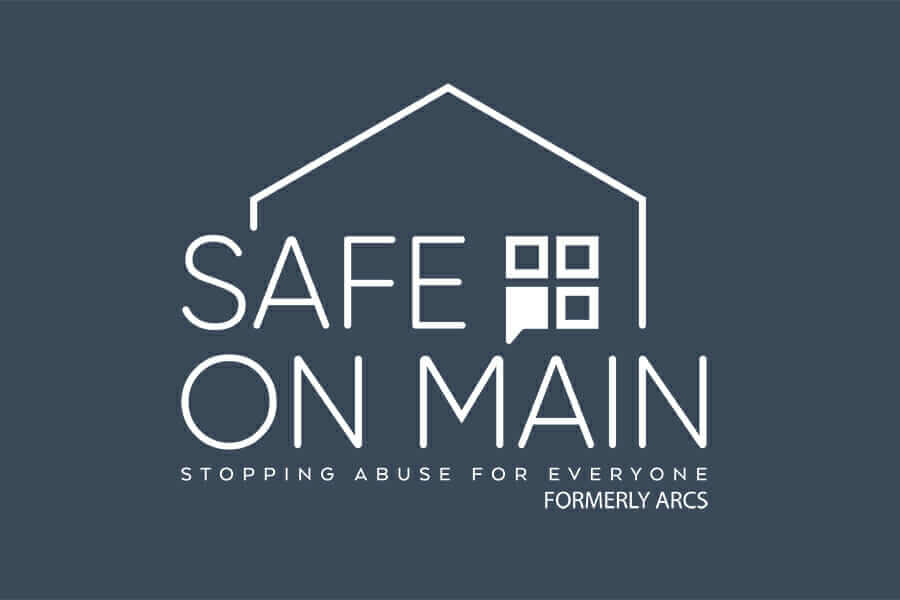 MVG is concerned with the health and welfare of our community and helping to support organizations such as SAFE on Main is essential. They provide comprehensive services to domestic violence, sexual assault, and human trafficking survivors including crisis shelter, court advocacy, therapy, and support groups. SAFE on Main also provides prevention education regarding healthy relationships, character building, and sexual assault prevention in schools. Want more information, hit the "Learn More" link below.
MIDDLETOWN HOLIDAY WHOPLA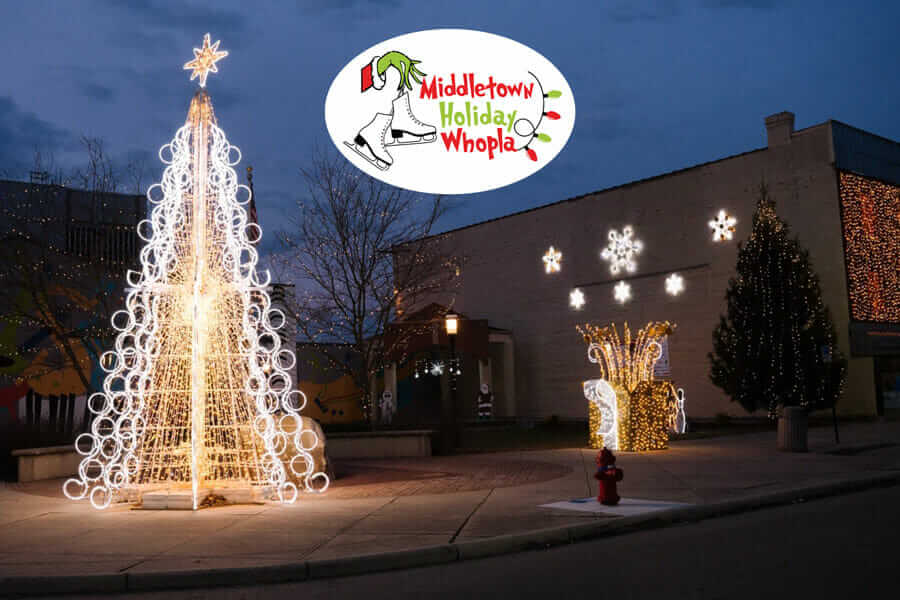 MVG is a proud sponsor of Middletown's Holiday Whopla.  This non-profit focuses on the economic revitalization of Historic Downtown Middletown and encourages citizen participation with the goal of building community pride.
The Santa Parade begins on November 25th at 4:00 PM.  There is so much activity taking place you just have to click on the link to find out what's happening where.  There is ice skating, Santa visits, Light Up Middletown, music, horse drawn carriage rides and so much more – check it out!
MVG CHARITY KIOSK PROGRAM
Every quarter, Miami Valley Gaming offers the MVG Charity Kiosk Program that allows patrons who are cashing out their tickets to benefit one or two organizations each quarter by simply donating their change on their cash-out ticket.
This quarter we are very proud to support Pink Ribbon Good (formerly Pink Ribbon Girls) and the Alzheimer's Association of Greater Cincinnati & Miami Valley. Please look below for more information about each organization.
WE ARE ACTIVE MEMBERS OF THE FOLLOWING CHAMBERS OF COMMERCE AND TOURISM ORGANIZATIONS
Warren County Convention & Visitor Bureau
The Chamber (Middletown, Monroe, Trenton)
South Metro Regional Chamber
Lebanon ChamberGreater Hamilton Chamber
Colerain Chamber
Chamber 45005
Tourism Council of Greater Cincinnati
Springboro Chamber
Mason Deerfield Chamber (MADE Chamber)
Fairfield ChamberDayton Area Chamber
Cincinnati USA Regional Chamber
WE ARE PROUD PARTNERS AND SPONSERS OF THE FOLLOWING
Lebanon Carriage Parade
St. Vincent DePaul
Lebanon Oktoberfest
Lebanon Chamber Annual Dinner
Warren County Historical Society